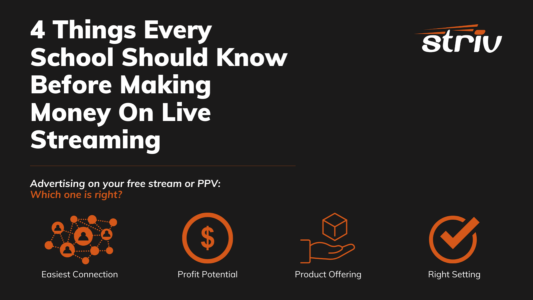 4 Things Your School Needs to Know Before Making Money on Your Live Stream: Webinar Recap
By Taylor Siebert on May 11, 2022
Administrators and athletic directors: are you thinking about monetizing your school's live stream? If so, we have the perfect webinar for you! We have helped schools produce thousands of events and know how to provide the best live stream experience and how to monetize it.
This webinar will help you develop a plan and give you the resources you need to monetize your stream while providing a hands-on learning experience for students.
Webinar Agenda
This webinar offers a perfect opportunity to increase your knowledge on everything to know about how to profit on your school's production. The topics that will be covered are:
How does free viewership create connection and community?
Why does free viewership lead to more revenue?
What are the disadvantages of PPV?
When can PPV be beneficial?
All of these questions will be answered in depth from the knowledge that we have learned from listening to feedback from both schools and fans for many years.
The 4 Things YOU Need to Know
Free viewership of high school activities creates the easiest connection between the school, community, and alumni network.
Advertising revenue leads to greater profit potential when viewership is free.
With PPV, a school is now selling a product, which leads to greater expectations for production and inconsistent revenue.
PPV is applicable in certain settings and events, identifying those events are key to profitability.
If you are interested in hearing an in-depth description of these four things as well as how to monetize your school's live stream, we encourage you to sign up for this on-demand webinar by clicking the button below!
---