This past month, Nebraska Public School Advantage (NPSA), wrote an incredible three-part story about our journey here at Striv TV. As a small-local-startup, we can't help but feel incredibly humbled by the connection and stories we've been able to share with teachers and students from around the state. Needless to say, this is still only the beginning. We've got so much going on behind the scenes, and we can't wait to continue stories like this with people like you.
You can find the full story in the links below.
From the beginning, we knew our goal was to be education and student-centered. We were lucky enough to have students like Tyler, Maddy, and Luke who were willing to go above and beyond to try something new, and go above and beyond with the product they were given. Our goal was to give students and educators a voice into a community, and luckily the schools caught on.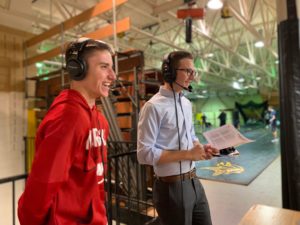 "I did not plan on doing something like this, but I fell in love with it."
But behind student voices and education, there was a business model and a dream. Part two focuses on the faces behind the brand, what it's taken to get here, and the thought process behind it all. Taylor Siebert, CEO, always had an itch for starting new ventures, and Striv was one of the first to really take off. Start-up culture is typically centered around the hustle and bustle of a booming city. We were excited to make it local.
"This swanky, student-centered and ahead-of-the-curve startup situated on Main Street in a two-stoplight town."
Start-ups and schools. How could the two ever be connected? We think that's the greatest part of our story. Two unlikely characters joining together for the greater good. We give you the tools and guidance, and you use your voice to share your story. This was always the goal, and it's become our reality.
"That's our vision," she said. "We want to empower students with opportunities beyond the walls, and with social media platforms to develop a voice."