Ignite Your Creative Genius
With one semester of StrivU Academy under our belt, we're excited to welcome new students for the spring semester. We hope this online education opportunity will be a great fit for your content creating students.
---
StrivU Academy was created to establish a community of like-minded high school students who are eager to learn more about sharing stories and building their personal brand as a content creator.
We will give you networking opportunities, resources and feedback while you create your own project during the course of which you will:
1) Work through our two storytelling guides and reflect with other students before you begin creating your own projects
2) Connect you with real-life media experiences, such as high school state events and local workshops. 
3) Build a community of students who "geek out" over content creation, just like you.
Each student will pick a media track that suits them and their ideas best: Audio, Video, Written and Design. These tracks were designed for students to focus their creative talent and grow their skills in this specific area. For example, students in the audio track created a podcast about sports at their high school, while students in the video track created projects like documentaries and highlight videos. 
Communication: StrivU Academy students will be plugged into Google Drive and communicate with students and Striv members on Slack and Remind.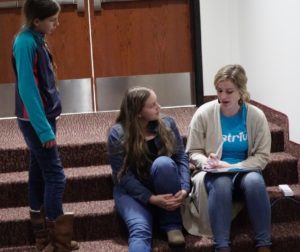 Click Here to see our general syllabus for the semester-long course.
Please Note: Your school doesn't need a digital media class for a student to be a part of the StrivU Academy. We are looking for creators in your school, who want to work on projects of interest to them, get connected with experts, and work with other students from our #strivschools to grow their skills.
Teachers, we're asking you to help us find students who you think are experienced and passionate about telling stories in one of these four areas. Send them to our application form –> CLICK HERE for StrivU Application. 
Please call (402-710-3031 ) or email me (sara@striv.tv) with any questions about StrivU Academy. We are looking forward to working one-on-one with your creative students.