We are excited to welcome Striv teachers and students to join our team at one of our Fall Camps in Kearney, Lincoln, and Bridgeport. We will dive deep into what it means to share your school's story through media and have you know how you can help do that more effectively.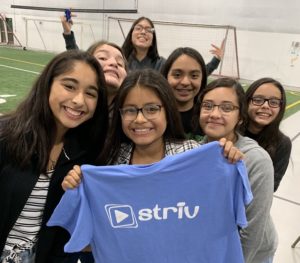 Hear first-hand from excellent Striv teachers how they share their stories and the resources they use.
Engage in conversation with our team and 100+ Striv educators from around the state.
Join us at Kearney High School on October 8th, The Graduate Hotel in Lincoln on October 10th, and Bridgeport High school on October 29th from 9:00 a.m. – 1:00 p.m.
Order of events
8:40 – Begin registration
9:05 – Introductions / Camp begins
9:10 – 9:35. Teacher Presentation – What it means to share your school's story
9:35 – 10:05 Break out session with teachers and students for application.
10:05 – 10:15 Break
10:15 – 10:35 Midland presents on the value of college
10:35 – 11:00 – Teacher Presenttion – Striv Resources for sharing your school's story.
11:00 – 11:30 – Group share on insights gained
11:30 – 12:30 – Lunch, time for teachers to gather, giveaways, games, music
We hope you can join us in learning more about the power of media and education. Questions can be answered by sara@striv.tv

Reserve your spot here.