Featuring Millard West senior, Will Morris

'I want to be like Will someday.'
Pretty impressive to hear those words from a classmate when you're entering in to your final year of high school.
For Will Morris, senior at Millard West high school, the honor is taken humbly. As he walked up to receive his award from the Nebraska Broadcasters Association, he recalls being a bit 'terrified'. After all, this was a room full of people Will says are 'better at what they do than I am'. As he walked toward Husker sports announcer, Greg Sharpe, who he was receiving his award from, the play by play piece being awarded was playing. Enough to make any teenager substantially nervous, but all those nerves may have been set at ease as Sharpe's first words to Will were, 'Congratulations, you're pretty good!'
This award is a big deal for Will and his journalism teacher, Lisa Lukecart, who submitted his piece. Millard West had never won a play by play award and this was maybe the beginning of something great.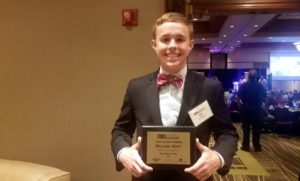 Will has a 'will' to succeed, so to speak. He was immediately recognized by Lukecart as a promising journalism student. It's Lukecart who has propelled Will to a new level. The student/teacher relationship has evolved into a partnership, which has ultimately taken Will to a place he didn't know he could accomplish; not just quite yet anyway.
Lukecart recalls a feature story Will wrote as a freshman in her Intro to Journalism class on Harrison Phillips. Lukecart, in her ninth year teaching at Millard West, knew she had something special here. She, not only tried to swing him into her Advanced Journalism class ASAP, but also entered his story into State competition. As any journalism student knows, this is quite a deal as a freshman. Being submitted against seasoned junior and senior journalism students, he made State with his piece and this was the beginning of his very own legacy story.
Will may have seen a glimpse of the potential within himself and started to take hold of the idea of journalism and broadcasting when Millard West administration welcomed Striv into their educational options for students. Will was up for the challenge. Alongside him; of course was his teacher and now the new Striv sponsor, Lisa Lukecart. Fitting was this pair because he states that, 'If Ms Lukecart weren't around, I wouldn't be doing any of this.' She, in turn, notes, 'He [Will] could do this for a living'.
With the great respect this teacher, student pair have for each other, the possibilities were sky high when things got started with Striv a few short years ago.
Both recall that first broadcast. Will wasn't totally unfamiliar as he had work with the school's weekly broadcast, but this was different. Lukecart had, not only informed Will he would be broadcasting Millard West's opening live event, but she had been advertising for about a month and had received over 1000 impressions on Facebook. Will's word for his new situation: 'terrified'. He didn't really know what he was doing stating this initial broadcast was 'a horrible impersonation of Al Michaels'.
The first year was experimental to say the least, but Will had big plans and the strong work ethic to back it. What started out as being a 'show up, find a roster and go' broadcast evolved into a very professional, prepped, developed, set up, get interviews of both teams and make a great broadcast. Will has even 'enforced' a dress code for the broadcasters saying, 'if we are going to sound professional, we are also going to look professional.' He had really settled in his junior year and made a name for himself. Although when asked, he mainly contributes so much of the success to his 'backbone' in the producers and camera people that have climbed on board with Striv as well as his color commentators, Matt and JD, who he says he could not do without and have equaled him in the leg-work.
The Millard West Administration has also been a great aid for Will's successes in broadcasting. With their support and aid in funding with a Grant that was recently gifted to the journalism department, Will is grateful for their support saying, "This will create, not only a better product for the viewer, but a better educational experience for us students."
'Professional' is a word that Will has embodied in his broadcasts. Start to finish, he puts in the time and dedication needed and has a crew behind him that makes him feel like it's the 'real deal' and he says they 'enhance everything'. Another key player that Will won't let go unmentioned is his teacher, sponsor, the Striv support system; Ms Lukecart.
Through it all, it has been Ms Lukecart that has enabled quite a bit of Will's vision for Millard West's live streams to unfold. There was a playoff game that left Will, JD and Lukecart under a table on top of, yet, another table covered with a tarp to keep the broadcasters somewhat dry and capable of commentating despite the freezing cold and wet elements. She has also been the driving force behind getting proper equipment in their hands to enhance their experience as well as the audience. She even fought through many adversities to make sure she got to Memorial Stadium to enable Will and the Millard West crew to experience a dream most high school kids don't get in commentating a live audio broadcast of the State Football Championship game there. She has stepped up to the plate for her students time and time again and Will is maybe the first to recognize her dedication to each one of them.
As Will enters his final year of high school with such great things ahead of him; he'll go to class, compete on the swim team, attend his National Honor Society meetings and conduct being a high school senior as normal. But he'll also be working toward his future, which he believes might be in sportscasting and sports journalism. He'll continue to be widely recognized by fans and players alike during events as 'the voice'.
Right there somewhere close, Lukecart will be there too. Teaching, supporting, creating leaders because that's what great teachers do. No words could describe this teacher's outlook better than her own; 'I'm just so proud of them for their leadership.'